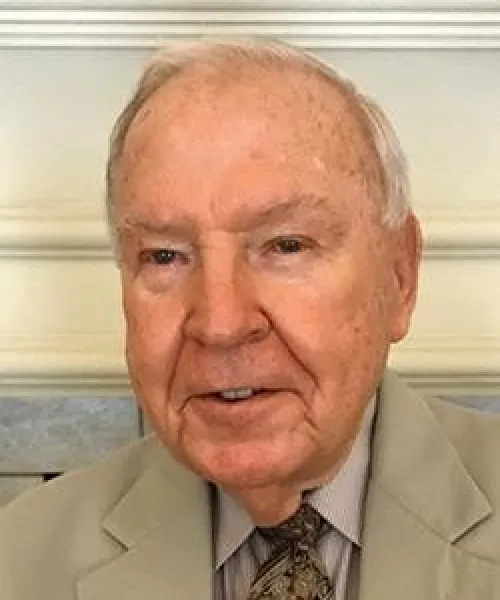 Remembering Clifford Harden
1935 - 2018
Clifford Allen Harden of Mount Dora, died on July 19, 2018 at the age of 83. He was born on April 15, 1935 in Newton, Alabama to Andrew Jackson Harden and Lonia Tidwell Harden. He graduated from Newton High School in 1953 and married Barbara Metcalf of Slocomb, Alabama.

Cliff was a U.S. Navy Veteran serving in the Korean War. He was a member of the Masonic Lodge and a member of the Lake County Shrine both in Tavares, Florida. He was a lifetime member of the VFW, American Legion and member of the Mount Dora Rotary Club, as well as a Paul Harris Fellow. Cliff was also the former owner of Rehbaum-Harden Funeral Home in Mount Dora.
He was preceded in death by his first wife, Barbara; son, Frederick; and 3 half-brothers, Floyd, Grady, & Johnny Harden. He is survived by his wife, Mary Dawn Harden of Mobile, Alabama; 2 sons, Allen J. (Judi) of Chipley, Florida and Stephen L.(Gina) of Midland City, Alabama; and Brother, Freddy (Sonja) of Newton, Alabama. 7 Grandchildren and 7 Great-grandchildren.
An initial visitation will be held at the Allen J. Harden Funeral Home, Mount Dora, Florida on Sunday, July 29, 2018 from 2-5 PM. Funeral services will be held on Tuesday, July 31, 2018 at Christian Home Church of Christ, Wicksburg, Alabama at 11 AM with Mark Turner, officiating. Visitation will be held at the church from 10-11 AM prior to the service. Services will conclude at the Church and burial will be private for the family.
In lieu of flowers, the family requests donations to Cornerstone Hospice, 4117 CR 561, Tavares, Florida 32778 or to charity of choice.